Staff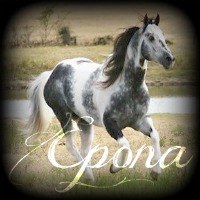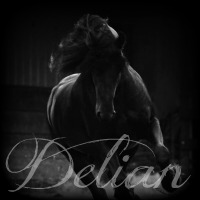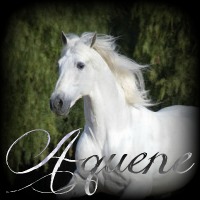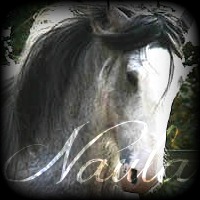 Herd Statics
Lead Stallion:
GrimReaper ♂
Colts:
0
Pregnant Mares:
0 

NAULA
____________________________
____________________________
nickname(s):
No preference
age:
4 years
sex:
Female
birthday:
Unknown for she cannot remember
complexion:
Almost all of the top half of her body is a light grey that is a slightly spotted look. Her underbelly is a white, as well as all her legs. At her hooves, her hair flares out and around it in a pure white. Her mane is a dark grey, and her tail is a light grey with white streaks. Her head has a large stripe down the middle of her head that looks as though an artist has taken their brush and painted down her face. Her nose is a lovely pastel pink. She is 1,963 pounds and 5'9" tall.
physical problems:
None
mental problems
: None
character:
Naula is a very unique individual. It takes others a long time to gain her trust, for she is very closed, though it is unknown as to why -- supposedly her past. She is always cautious and remains uncertain about them, not allowing herself to get close to many. However, once someone is able to break down her walls, her true self is revealed. She is outgoing and has a kind heart. She is very stubborn and is not afraid to speak out, for she is not shy -- just protective of herself. Her temper is something that should not be messed with, but she knows how to keep it under lock-and-key.
historical events:
A foal was born in the woods by a Blue Roan Clydesdale – Kahea, along with her father – Lathan – watching with pride. The newborn lied on the ground beside her mother, her gray fur matted and damp. Her mother stood up, panting heavily, and leaned down, nuzzling her child. Slowly, the tiny horse lifted its small head and let herself be pushed by the one who gave birth to her. "What shall we name her?" her mother asked gently, glancing at her spouse. He was silent, staring at his daughter for a while before speaking up. "Naula Rae," he replied softly, a smile on his muzzle. Naula was his mother's name, and Rae was Kahea's mother's name. The looked upon their child with happiness and knew it was the start of a beautiful family. She grew up in the wild, learning the basics of what to eat and how to survive from predators. Her father taught her fighting moves – in case she had to resort to using them – while her mother taught her about a few plants that were okay to eat.
When Naula had passed the age of 2 and it was obvious that she had stopped physically growing, she was allowed to leave her home more frequently and explore. When she was 3, she was looking for something that would interest her, her large head swinging around as she trotted through the forest. Suddenly, she heard yelling and froze, one hoof raised for another step. A human ran out of some undergrowth and pointed at her, screaming loudly. "Get this one!" Other humans raced around, yelling and throwing things. Startled, she turned and began to run but was blocked off by a wall of humans holding shiny metal objects that her father called guns. She realized these were what were called 'poachers'. All the moves she had been taught by her father came rushing to her and instantly she reared back on her hind legs, her front two legs kicking madly. More shouting erupted and someone threw an object at her, though she dodged it with her quick reflexes. She let out a loud, angry neigh and turned to the poacher who had tried to hurt her. She charged at the human, letting her hooves land on his body and crush him with a sickening crunch. Rage consumed her vision and she spun around, knocking the people out of her way and stepping on a few of them without noticing. After a few minutes of this, she paused to look at the carnage she had left. Fear consumed her as she stared at the dead bodies. What had she done? Terrified, she fled the safety of the woods. She traveled for many days, constantly hesitating about leaving her parents. However, she soon stumbled upon a place that she wished to live for the rest of her days.
family:
Mother and father -- status is unknown
Dam;;
Kahea
Sire;;
Lathan
Brother(s);;
None
Sister(s);;
None
Grandmother;;
Naula & Rae -- statuses unknown
Grandfather;;
Unknown name and status
Aunt(s);;
Unknown names and status
Uncle(s);;
Unknown names and status
Children;;
None
Nephew(s);;
None
Niece(s);;
None
Cousin(s);;
Unknown names and status (if any)
breed:
Blue Roan Clydesdale
weaknesses:
Sickness, poachers, and others on occasion
strengths:
Running, fighting, and being right
habits:
'Paws' the ground with her right hoof a lot
herd?:
Sanatorio
loner/rouge?:
N/A
reference?:
Spoiler:
mate:
N/A
crush:
N/A
friends:
N/A
foes:
N/A
theme song:
None at the moment
other characters?:
N/A
extras?:
Would like to be Leading Mare
secret answer?:
This member has posted the correct secret answer and it has been removed for the fair joining of others. - Naula
how did you find us?:
Incandescence Advertisement
Last edited by Naula on Sun Jul 06, 2014 5:44 pm; edited 2 times in total



Character Gender

:

Posts

: 30


Horse Shoes

: 53477


Join date

: 2014-07-05






Character Gender

:

Posts

: 33


Horse Shoes

: 53777


Join date

: 2014-06-29


Age

: 23




---
Permissions in this forum:
You
cannot
reply to topics in this forum