Staff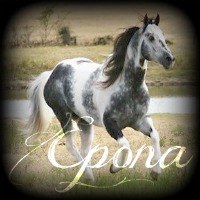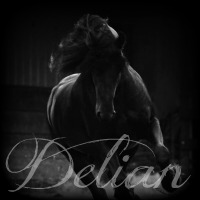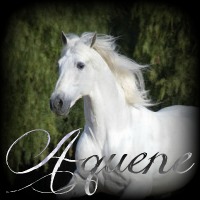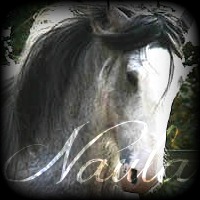 Herd Statics
Lead Stallion:
GrimReaper ♂
Colts:
0
Pregnant Mares:
0 

Epona excitedly bobbed her head as the sweet scent of flowers filled her nostrils. She closed her eyes as her legs carried her into the blue field which reminded her of the beautiful waters back at the beach as the wind made the flowers sway. The dual colored horse whisked her tail from side to sides when she lowered her head to take in the wonderful scent of the blue flowers. She soon stopped and looked to her mate after coming to a halt. The mare flicked her ears and whinnied to Grim, "Did you see your brother today?" the young mare asked her mate curiously.
Her Hazel gaze watched him in silence as she wondered how the stallions brother was doing since he left to create his own herd when Epona chose Grim over Delian.
Last edited by Epona on Mon Jul 07, 2014 4:03 pm; edited 1 time in total
Grim came to a stop a few lengths away from his mate, dipping his head he nodded "I have seen Delian, he was rather hostile" he whinnied softly, "not only did I see him, but met to of the mares that belong to his herd.." he paused as he thought about them, before shaking his head to clear the nagging annoyance that tugged at his heart.

"How are you feeling after he left?.. I know you to were close" he nudged you softly, offering support
She nuzzled her mate in response, "It was his choice to leave. He didn't have to." Epona said, "I"m fine with it." the young mare said, "I'm just glad you didn't." she said happily. It wasn't hard to please the young mare. She was happy with life and all the little wonders and she rarely ever let things get to her or bring her down. She pulled away from the black faced Stallion and looked out on the blue field.
He tilted his head, eyes filling with deep emotions that welled up inside him..
"I would never leave you!" he stated firmly, as he spoke he beat the ground with a single hoof.
The white and gray mare whinnied and nuzzled her mate. "I know that, and I'm grateful for it." Epona said as she flicked her tail to brush away another horsefly. The young female then moved forward and rested her head across the stallions withers.
Last edited by Epona on Tue Jul 08, 2014 3:05 am; edited 1 time in total
his tail to flicked side to side, whacking any fly that came near. Soft nickering noses escaped from him as he bumped your rump with his nose.

"I love you" he whinnied softly, as he nibbled at your side.
The young mare whinnied and nipped his flank gently. "I know." she smiled before nibbling his forelock gently, like she normally did. "I love you too." the mare said with an excited neigh as she nipped his flank once again before looking to the flower bed. Trotting to some slightly flattened flowers she lowered herself onto her belly and then rolled in the flowers for a short period of time.
He whinnied with laughter, tossing his head back pointing his nose to the sky before trotting and tumbling to the ground playfully, a loud THUD was made as his large body hit the ground, sending a cloud of dust around him, petals and leaves coating his torso, mane and tail.
The mare giggles as she rolled back to her belly and looked to her playful mate. She smiled seeing him so relaxed and not being aggressive. She rarely saw that side of him but she knew the Stallion was an aggressive one, he had just never been that way towards her. The mare rose to her legs and shook herself out, removing as much as the debris from her body as she could.
He whinnied lovingly, laying on his back he watched you upside down, before rolling to his side and tucking his legs under him, getting ready to stand.

---
Permissions in this forum:
You
cannot
reply to topics in this forum